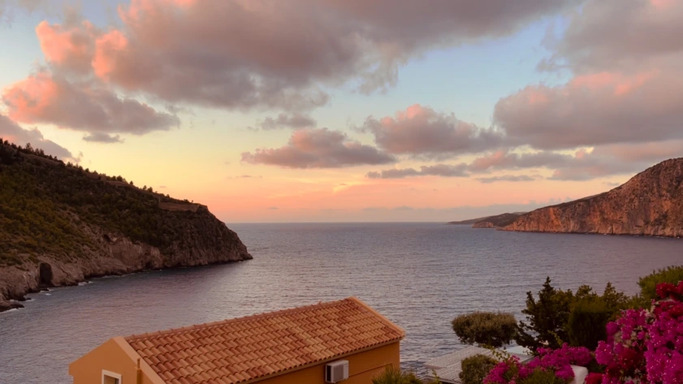 Assos sunset
The late afternoon breeze begins to dissipate the heat of the day, the sun gently sinks over the sea, islands in the distance emerge in silhouette as the sky shades pink and purple. Evening time on the Greek islands. Hard to improve on that I hear you murmur?
Well actually there is a way to dial up the experience: make sure you are enjoying a glass of chilled Robola on the island of Cephalonia!
In Captain Corelli's Mandolin the bottles of Robola that the drunken priest downs while hiding from his flock would bear, I imagine, little relation to the excellent wines the island currently produces. However, the storey does serve to illustrate the very long tradition of wine making on the island which stretches back over centuries of Venetian influence.
Wine is produced on several of the Ionian islands but Cephalonia is known as the home of one of the best Greek white wines Robola. Perhaps not as famous as Santorini's Assyrtiko but definitely worth searching out particularly if you enjoy fresh, crisp and minerally wines with elegance and structure. The best are grown in poor limestone soils high up on mount Ainos.
Robola is not the only show in town though indeed there is a bewildering array of grape varieties grown on the island. The other main grape varieties are Mavrodaphne and Muscat Blanc. Mavrodaphne is a red grape traditionally used to produce a sweet red wine, thanks to the Venetians love of the Passito method of sun drying their grapes, but now also made into a delicious dry reds too.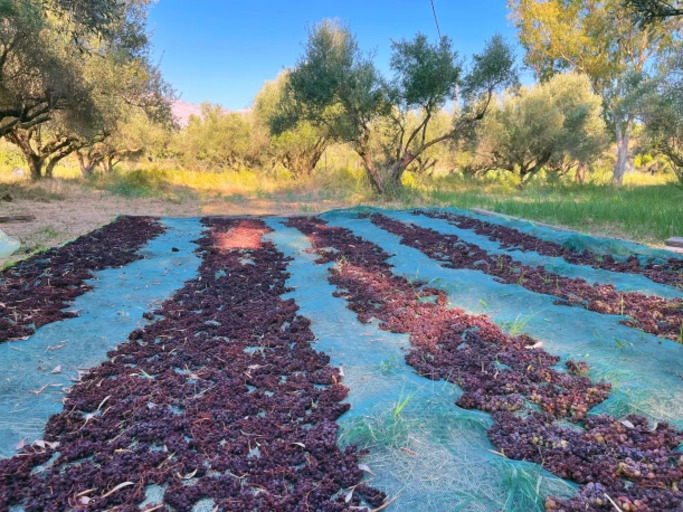 Grapes drying at Sclavos Wines
Local wines are widely available in all the tavernas, many stocking the excellent entry level Robola produced by the Cephalonia Cooperative which arrives in a cloth sack. Also, sometimes some more premium higher altitude and even single vineyard Robolas by the Cooperative and wineries such as Gentilini. Do try the various alarmingly coloured rose wines (think Aperol Spritz) that are made on the island too!
Sadly, I only managed to visit Sclavos Wines and Domaine Foivos whilst on the island and as Adam has recently reviewed Sclavos Winery here I will focus on Domaine Foivos.
Domaine Foivos
Domaine Foivos was formed when Theodore Orkopoulos bought the Matzavino family winery which is one of the oldest wineries in Greece. In fact, Theodore believes that Homer mentions the wines in the Iliad!
The estates vineyards are located in different parts of the island and contain a large range of very old indigenous grape varieties many of which are pre-phylloxera. Since the phylloxera louse killed off most native European vines by attacking their roots nearly all modern vines have been grafted onto American vine roots which are resistant so it is unusual to find old ungrafted vines that have survived.
It became evident during our three hour long tasting that Theodore possesses just the sort of boundless enthusiasm and a relentlessly enquiring mind needed to fully grasp the wine making opportunities that this precious library of vines presents.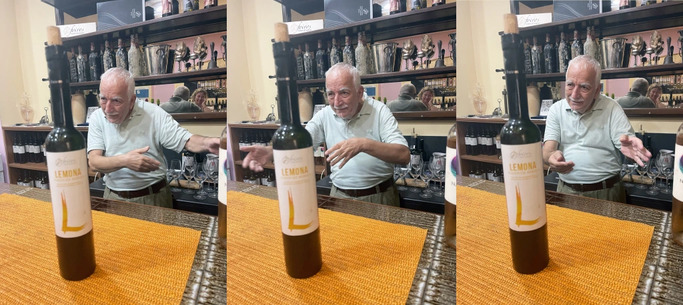 Theodore Orkopoulos winemaker at Domaine Foivos
We started with a master class on Robola show casing different wine making techniques applied to grapes from the vineyards on mount Ainos.
Black Label Cephalonian Robola, 2021.
The vines are fully pressed and allowed a bit of skin contact.
The nose is a little floral with a touch of pink grapefruit. On the palate nice fruit, good balance and freshness and a pleasant prickle from the skin contact. A very nice wine that has tension and character.
Blue Label Cephalonian Robola, 2021.
This wine is also made with a full press but without any skin contact.
A refined nose of peach and wet stone. In the mouth a slimmer body and softer acidity with good length. This wine is available in the UK. It would work well as an aperitif to go with the sunset followed by the black label with dinner at the local Taverna.
Barcarola Cephalonian Robola, 2021.
This version of Robola is made with only the first free run juice of a selection of the grapes.
It has quite a different nose, much more perfumed, floral with delicate citrus notes. Theodore describes it as more pure expression of the grape. Again, a lighter body, very nicely balanced with a long lingering finish. This is a more premium wine.
Orange Robola 2021
This wine is made with 5 days skin contact which is relatively restrained by natural wine making standards so it is not very 'orange' in appearance. Possibly why I liked it so much! Ripe fruit on the nose, white peach, rounder on the palate with more ripe fruits and a nice prickly sensation. Very tasty.
Amphora Robola, 2021
This wine is made in small clay amphora.
On the nose more herbal notes over the top of peach, wet stony notes and something floral like lilac. Also complex in the mouth with a very nice texture and length.
East – West Robola + Assyrtiko, 2020
This wine is a 50:50 mix of Robola from Domaine Foivos and Assyrtiko from Zanthi.
It has a rich nose of peach and other tropical fruits and on the palate a lovely a mix of peach fruit and salty citric notes from the Assyrtiko.
Asteris Robola Rose, 2020
A bit of mavrodaphne is added to give a splash of juicy fruit to layer on top of the peach and citrus profile of the Robola. This is not one of the alarming coloured roses mentioned in the introduction, looks very respectable.
Lemona Sun dried Robola, 2012
Grapes are dried in the sun for up to 20 days. Then pressed to make this amazing sweet wine. Around 10kg of grapes are needed for each half bottle!
On the nose sweet fruit, caramel. In the mouth complex flavours of lemon, nuts and honey. Very long, great balance with real lift and length.
Appropriately named after Lemona goddess of the environment.
Foivos is one of the few wineries offering so many versions of Robola and it's a result of Theodoros' continuing search to discover all aspects of the grape.
The masterclass of Robola over, Theodore explained what had prompted him to start to experiment with using amphora. It's understood that the ancient Greeks heavily watered their wine down and Theodore wanted to find out why. He set about making wine using clay amphora in the way that the ancients did, which included adding wooden staves and found that the results were good. However, Theodore realised that storage of the wine in clay amphorae over weeks and months would cause the wine to oxidise badly. So, the theory is that by the time the important religious festivals came around in the new year the wine from the last harvest would have needed to be heavily diluted to make it drinkable.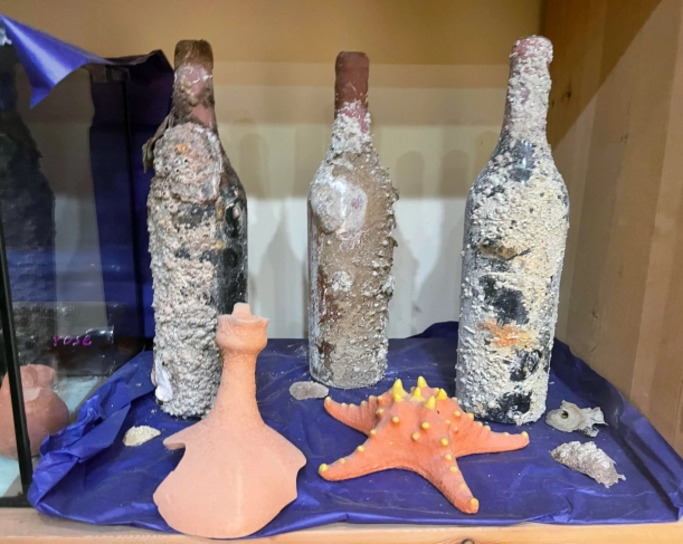 Theodore also believes that the ancient Greeks stored wines under water possibly to try and prevent it spoiling through oxidation and this has also led Foivos to carry out some very interesting experiments in aging wine under the sea.
Nautilus White, 2021
Made from blend of Tsaousi, Vostilidi, Muscatel and Muscat grapes this wine is bottle aged for 6 months in the winery aquarium which creates and environment of total darkness, constant temperature and lack of oxygen. On the nose lemon pith, lemon peel, fresh green herbs and a floral note. In the mouth round, medium acidity, more pith and citrus notes with a pleasant slight bitter bite at the end. Very vibrant and long. Available in the UK.
Nautilus Rose, 2021.
Mavrodaphne, Muscatel, Muscat, Tsaousi and Vostilidi grapes. Also bottle aged in the winery tank. Very aromatic, wild flowers and wet stones. On the palate soft red fruits, super dry with a fresh lift and a dry salty finish. Very nice in deed. Exported to British Columbia amoungst other places.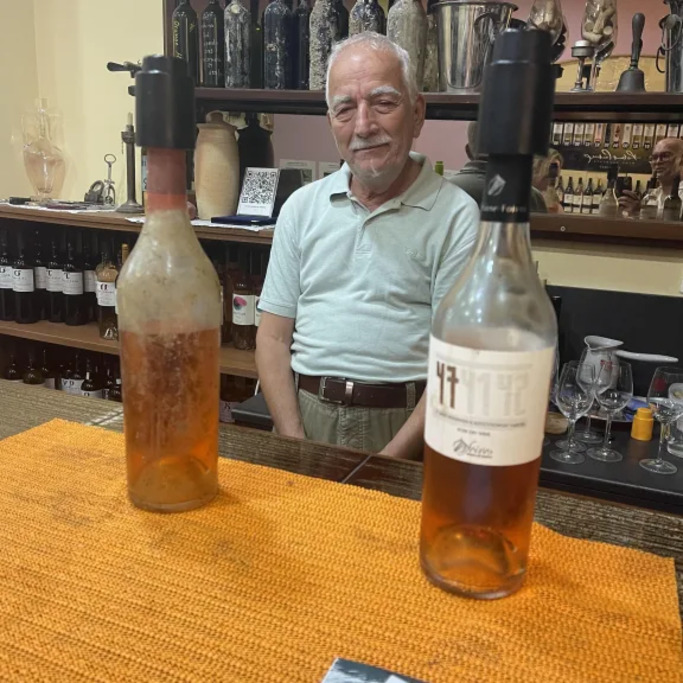 47 and 47 Undersea
47, 2017
The wine is a remarkable blend of 47 varieties: 41 whites and 6 reds to make a rose. This is where the field 'library' of indigenous grape varieties comes in.
Mineral, stony notes on the nose with fresh cut soft red fruit. On the palate strawberries, raspberries then baked lemon, very fresh. Complex with waves of flavours, long.
47 Undersea, 2017
As if 47 wasn't extraordinary enough the same 47 varieties have also been bottle aged for 18 months under sea. The wine is stored in cages at depth of 22 m. As with the Nautilus wines this ensures, darkness, constant temperature and lack of oxygen but in addition higher than atmospheric pressure and a saline environment.
This wine has a different nose to the straight 47, with less obvious fruit, the fruit more integrated with the mineral notes. In the mouth tangy fruit salad flavours, complex with a stony and salty edge. Amazing to see the difference to the non-sea aged version
Red varieties.
Myesis, 2017 (initiation)
Made of 3 grapes mostly Mavrodaphne but with Cephalonian varieties: Theiako and Araklino.
A nice whiff of marzipan oh the nose with a bit of spice. A good medium body with soft rounded fruit and subtle barrel notes.
Daphne Daphne, 2016
This is a dry wine made from 100% Mavrodaphne. On the nose, plums, farmyard, smoke. In the mouth medium body, a bit of lift, dark fruits and savoury notes, medium soft tannins. Very tasty.
Amphora Red, 2021.
Another dry red mostly Mavrodaphne with 15% Vostilidi. The clay amphora gives the wine an overdose if oxygen for about 2 weeks while it ferments. Also, the amphora mean that the fermentation temperature is uncontrolled.
Nice balance, medium acidity, soft but mouth coating tannins. Lovely.
42, 2016
Another remarkable blend this time of 42 red varieties from heritage vineyards. Theodore says the grapes compete in the glass to come out on top, a continuing battle with new winners presenting themselves at each stage of the wine's development. A rich nose of dark and red fruit and smoke. Medium body, a kaleidoscope of fruits, toasty notes, complex. Delicious!
Methyse, 2004.
Named after a follower of Dionysus the god of winemaking.
This is the traditional sweet wine of Mavrodaphne.
Super dark in colour, nose of chocolate, Kirsch, dried oranges and Christmas spices. Sweet but with enough freshness to lift it, complex and very long. A real treat!
Tasting the Foivos range of wines with Theodore at his cellar was a fascinating experience! It is wonderful that way he takes inspiration from the past, cherishes local heritage and yet continues to explore and experiment with new ways of expressing the wines. Do seek out the wines and try them.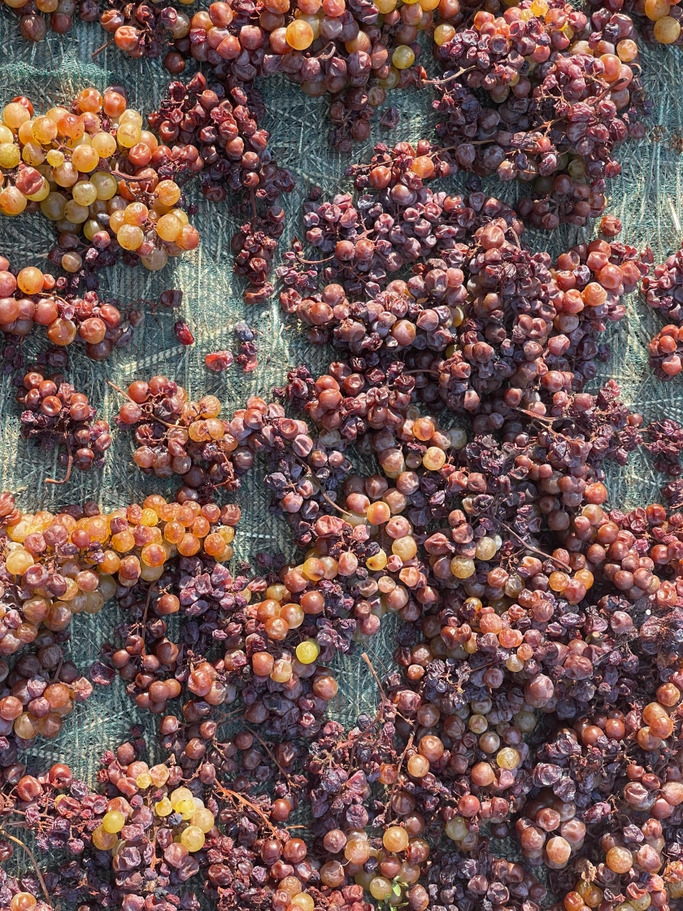 Όλη η παρουσίαση εδώ